We just learned that NASA may use some of the images we've posted on this blog for their upcoming Sun-Earth Day webcast on Friday 22 March 2013.  Hooray!!
Of course, I am writing retrospectively now as I attempt to rest and recover from our exhausting and exhilarating Northern Lights Photo Expedition for Education.  There was no time for processing photographs or blogging at the end of our arctic adventure.  It was all we could super-humanly do to get ourselves on an 8:15 am airplane on Saturday morning (16 Mar 2013), after a wild party of Friday night lights, and essentially no sleep.
The lead image here is one of my very favorites, although it does NOT come from the last night Duke and I spent in the field (see album below for that).  Instead this image was made on Will's last night out with us (Tues 12 Mar 2013), which had also been a veritable "dance party" of lights. The rustic foreground scenery you see is located around the corner from the famous old Yellowknife mine (see lead image for Post 5).
I'd been saving this auroral image to make a comparison of the remarkable braided structure with the furls of a woman's long hair – okay, MY long hair. And although I have highlights (ahem), it occurred to me that such a juxtaposition might unsuitably detract from the majesty and charm of the auroral image.  Oh well…here it is anyway. Perhaps one redeeming factor is that I found my hair falling naturally the way you see it, and did nothing to arrange it for the photo. Click on the photo for a closer look.  By the way, all that hair had to be tucked away in a small bun at the base of my neck to wear the balaclava, hats, and hoods.
Will's Departure and Return to His Students
Before sharing the images from our last night out, I'd like to take a moment to properly document Will's departure (Wed 13 Mar 2013).  He returned to Atlanta for jury duty, classroom teaching (getting paid again!), and completing his comprehensive exam to advance his candidacy for a doctoral degree in Education.  We all faced such re-entry challenges, but Will's story takes the cake and explains why he left us a few days earlier.
Below you can see Will (in green T-shirt) with some of his students at Norcross High School (Georgia) who followed the Yellowknife trail of their adventurous teacher. Several of them were involved in producing our project's  Kickstarter video. Click into the image to see their bright, smiling faces more clearly.
Images from Our Last Night Out
The northern lights were dazzling on our last night out (Fri 15 Mar 2013)!  Perhaps it was the very best night of the entire expedition from an experiential point of view.   Colorful, energetic spirals and curls unfolded faster than the cameras could record. The album embedded at right offers a small sample of images recorded.  Some have unique structures not previously posted. Check out the odd square formation in one of the images!
Aurora forecasters had estimated a 65% chance of polar geomagnetic storms on March 15th because it was possible that a storm of particles from the Sun called a Coronal Mass Ejection (CME) might deliver a glancing blow to Earth's magnetic field. Given what we witnessed in the sky that night, the "blow" was delivered.
Earth's AMAZING Magnetic Field
We are not often told in school that our planet's magnetic field is absolutely essential to life on Earth as we know it.  Without its "force-field-like" ability to deflect the charged particle radiation from the Sun (the so-called solar wind of electrons and protons), the delicate tissues of living things on the Earth's surface would be destroyed. NOTE: The artist conception above is NOT TO SCALE, but gives the idea of particle deflection by Earth's magnetic field.
I was already in awe of our planet's magnetic field before I went to Yellowknife. But now, having experienced the lights with my own eyes over many nights, I am astonished by the diversity of shapes and structures the dynamics of Earth's magnetic field can cause. The field acts as a veritable sculptor of light forms, producing some of the most sublimely beautiful spectacles a human can behold!
Go to See the Lights for Yourself!
We hope our images inspire you to find a way to see the aurora with your own eyes!  Our cameras and blog descriptions cannot fully convey the unforgettable energy that arises in the heart and soul as you witness the lights dancing.
And yes, there are cozier ways to experience the lights than staying out all night on a frozen lake in quest of vast quantities of amazing photos. You may wish to consider the hot tubs and heated seats of Aurora Village located just outside Yellowknife where the guides will provide a photo for you.
Do the Eyes (or the Nose) Have It?
For those who wear glasses, you might wish to consider outfitting with contact lenses before heading out into the arctic cold to see the lights.  It's not absolutely necessary, but the picture of Duke (at left) speaks loudly for itself on this matter.
Duke and I had never before worn contacts, but he was insistent that we get them because of his deeply frustrating experience with frosted glasses in the field 12 years ago.  Our experience is that every type of body moisture freezes. Check out the handsome snot-cicle at right, and the frosty eyelashes below. (Yes, snotcicle is in the urban dictionary). Click the images to have a closer look than you may want. NOTE: Almost every image of the blog will enlarge.
Back to the contacts. Duke and I had observed friends pop contacts in and out of their eyes as effortlessly as popping a piece of candy in their mouth.  They had learned to do it in their youth. But for us, it was MUCH more challenging, and we were glad to have each other for moral support.  Sticking our fingers in our eyes was simply not natural for us.
So every night of the expedition,  in addition to remembering to put on my "arctic-naut" diaper (which most nights I forgot to do before 3 or 4 layers of clothing were already on), Duke and I jested about remembering to "put in our eyes".  We had to do it before layering up because on many nights we needed multiple tries, and we would heat up too much if we had too many clothes on. Will's photo captured me in the act of installing a contact.  I find it freaky, but I hope my teacher Clove at Eye Etc.  back in Atlanta approves of my form. Again, click the image to see more detail than you may want. NOTE: Almost every image in the blog will enlarge.
Contact Mal-function in the Field – A Lesson in Teamwork
On the last night out, we arrived at the place on the lake ice road where we hike into our favorite panorama alcove. I finally had to admit that I just couldn't see through my right eye. Sometimes it took the contacts awhile to settle down, but this was different. Something must be wrong. Poo! This would spoil my vision on our last night out.
The aurora had already stormed once, and it was likely to start up again any moment. I knew Duke was anxious to set up his nifty, home-rigged panorama device that fit two cameras at once.  I figured he would run on ahead and let me solve the problem.
But he didn't run off….he stayed with me, and helped me troubleshoot.  He shone additional light to help me discover (after swiping my finger across my eye 4 times) that there was NO contact in that eye. I must have unwittingly wiped it out when I had earlier responded to a sensation of itchiness associated with my cold.
Fortunately I had a back-up set of contacts with me, but I had never tried to put them in while out in the field where I didn't have additional saline solution in case I messed up.   No pressure or anything.
Whew!! The contact went in on the second try.  Duke stayed with me until the process was complete…..and you know….that simple act of kindness meant a great deal to me.
Truly it is this kind of seemingly insignificant close support in the clutch that makes all the difference in creating a trusting and fulfilling sense of teamwork.
Our days and nights were marked by many such simple acts of consideration, patience, and flexibility. Some examples off the top of my head:  helping a teammate button up a parka; bringing food if a teammate overslept breakfast; giving quiet space in the
room so a sick team member could get extra rest;  assisting with the laundry; sharing food, snacks, vitamins, or medicine; staying cool in a car crash and finding a helpful role to support getting the car out of the snow bank; choosing considerate moments for a shower (we each took only 2 to 4 of them during the entire time);
wearing ear plugs to accommodate snoring; making a picture you know a teammate would love to have; digging a room key out of your bulky cold weather gear to get the door open for everyone; remembering to adjust the thermostat down to keep the team cool while layering up; allowing a teammate to support you even though you prefer to be independent; and…the list goes on.  At our best, everyone was looking out in every moment for how to contribute.  This spirit was vital to our success because we lived in very close quarters for an extended time with sleep deprivation, altered diets, and the daily stress of the arctic cold.
Panoramas in the Extended Crescent Moonlight
Contact crisis resolved, Duke and I went on to get some great panoramas.  Duke trained me up on how to work the camera to shoot them. Such fun to get a feel for it!  When he gets one of the image sets stitched together I'll update this post with it.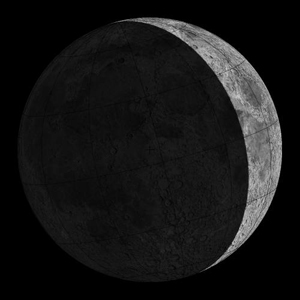 When the aurora quieted down, I led us on a short walk up a small ridge in deep snow that was softly aglow with the light of a crescent moon. That crescent was still in the sky well after midnight!   In Atlanta or Salt Lake it would have been long gone below the western horizon.
Aaaah, but this is just one more of the joys and new perspectives of high latitude living!  In the arctic, the setting of the Moon, Sun, a planet, or a star is a long, drawn out affair. There is time for a photo like the one below where you can see Jupiter (brightest light at lower right) setting among the black spruce trees. Post 4 tells you exactly where I am and what I'm doing in support of this photo (HINT: wonder how the tent was lit?).
Click on the photo above for an expanded view. Works for most all of them!
Close Support from Family, Friends, and Countless Canadians
Nobody on the team arrived, survived, or thrived on our expedition without the close support of family, friends, and the countless curious, caring, and capable people we encountered in Canada. Folks really know how to help one another in Yellowknife, and we strangers were readily included in the circle. The photo album here celebrates a few of the friendly folks that helped or inspired us.  Not all of them are officially Canadian, but they all conveyed a contagious community spirit that made a big difference to us.
Virtually every night of the journey, the team's energy was boosted by a message from someone sharing our blog/photos, or by word of a new contributor on Kickstarter. NOTE:  There's still time to contribute or to SHARE the blog out to your friends, teachers, and students. Let us know when you do, so we can include you on our growing list!
Thanks to Duke's Supporters:  As mentioned in Post 4, Duke's spouse Marsha and son James were on Skype everyday. I found this a precious injection of warmth into our Yellowknife existence.  I loved hearing 21-month old James gurgling with joy to see his Da-Da on the computer screen, and seeing Daddy Duke blow kisses interspersed with his soft words of endearment. In addition to caring for little James, Marsha has been assisting with image processing, including support for readying the high-resolution images needed to take advantage of our new NASA opportunity. Duke has also expressed his gratitude to Judit Fabian who loaned him her camera and lens (identical to his) so he could run the homemade vertical and horizontal panorama rig he'd designed.
Thanks to Will's Supporters: Will was in email touch with family and friends, and also with fellow teachers and students at Norcross High School.  His wonderful friends Becky and Roy in Calgary (with awesome kids, Aidan, Cotter, and Kaitlyn) had generously lodged and fed us (Will and me) in their home for a couple of days on our way to Yellowknife.  The photo above is on the deck of a pizza place after a snowy day in the Banff winter wonderland.  Can you tell that I don't yet understand the capability of the wide-angle lens on Will's camera?
Thanks to Cherilynn's Supporters: I'd  like to acknowledge by name those in Atlanta who helped me to prepare (in a broad variety of ways) for making the most of this extraordinary expedition.  My heartfelt thanks go to Christine Peck, Clyde Ranney, Dr. Robin Kirby, Dr. Karen Hoffman,  the spirited ladies of the Table of Eight, and my new optometrist, Dr. Michael Stamboly, with his able assistants Clove and Chris who patiently taught me how to use the contacts (and a good thing too!). Thank you all from the bottom of my heart…
A very special shout out of gratitude goes to my beloved brother, Jeff Morrow, who provided ongoing mentorship for using WordPress and Live Writer while I was in Yellowknife. In January (when we met to reflect on the 1st anniversary of our dear father's passage), Jeff helped me set up the ArtSciencEducation website and gain experience posting so I could bring you this blog.  He is a natural and talented life coach, and I have deeply appreciated his intuitive genius supporting me to live into this dream project.
Nutritional Support
Speaking of my brother leads me share more about our food choices during this expedition.  Part of Jeff's work as a coach involves being a distributor of Isagenix nutritional products. I consumed high-quality protein shakes every day of the expedition to help keep me going, along with whatever fruits, vegetables, and fresh arctic fish I could find.
A common breakfast for me is pictured at right with bananas from a Yellowknife grocery store; apples, oranges, and honey from the Super 8 breakfast room; and the green tea, vitamins and Isagenix shake powder carried from home.  I sometimes added a wheat bagel and/or some raisin bran.
My teammates chowed down on at least two large waffles and two bagels each morning. While this may sound a bit gluttonous, remember that our grueling, after-hours schedule often led us to count on breakfast to provide the calories of two meals. Nobody gained weight on this expedition.
I missed having eggs at the Super 8, but  enjoyed them at the Dancing Moose Café where Duke and I ate breakfast while staying at the Bayside B&B after Will left us. Their eggs benedict with arctic char was amazing! The beet and goat cheese salad was a favorite in the evening. By time we were at the Explorer hotel on the last day, our funds and time were too short for dining out. We lived on Cliff bars, blueberries, and bananas.  Duke added lunch meat, and I kept up with my Isagenix shakes.
While on this topic, it is only fair to acknowledge the Fisherman's Friends I gobbled, and the cold medicine Duke gave me (and Will) from his impressive kit.  He had stuff I almost never take, but without which the snotcicle formations could have become quite troublesome in the field.
Can you possibly believe that NONE of us were coffee drinkers, and a total of two glasses of wine were the only alcoholic beverages consumed by the team (okay, by ME) over the entire trip?
Nobody consumed TV either, except for times that were hard to ignore in the Super 8 breakfast room when news coverage of the papal election process blared. More often, we enjoyed feeding the minds and hearts of fellow guests with our images.
Final Post?  No Guarantees…
Is this the Final Post?  Who knows. Except for a report on the outreach impact of our expedition (hopefully amplified by NASA's recent interest in some of our images!), the bases are reasonably well covered, but there is always more to tell.
For example,  I didn't find anywhere in these posts to tell about the nap-time we spent exploring Cameron Falls, the Ice Truckers road,  and Dettah—a beautiful community of first nation people (Yellowknives Dene) right on the shoreline of the Great Slave Lake (the deepest lake in North America – more than 2,000 feet deep). These people were named for their tradition of trading "yellow" tools made from copper deposits.
Duke and Will have the best photos of our nap-time outing, and also some fun photos from a colorfully lit community evening at the Snow King Castle when I decided stay in to rest and work on the blog.  The auroral photos made with their high-end cameras were first priority for processing.
The photos in the album here were made with the camera on my Galaxy S3 smart phone during our visit to the enchanted landscape around Cameron Falls.  Take your time to check out the sunlight & shadows, the shapes & sizes, the tracks & trails, and the colors both subtle and stark.
On the way to Dettah, running our little blue car in the extended arctic dusk, we were blessed to spy a pair of wild cats (lynx with bobbed tails and tufted ears) bounding across the road.  Though most of my adult life has been spent in Colorado, this was my first glimpse of a wild cat in the wilderness!
One of the cats turned to look back at us before dashing into the trees. Will was fast with his camera and got a shadow-y photo of his hind quarters which we'll place in an update of this post (after he's completed his comprehensive exams).
Knowing When to Quit
Knowing when to quit was not a strong suit of our hyper-dedicated team on this expedition, and I suppose this blog is no exception.  So now I will attempt… again…to conclude these blog entries for the Northern Lights Photo Expedition for Education.
I choose to close the story with a profound sense of gratitude for my multi-talented teammates, Duke Johnson and Will Stoll.  As a result of our challenging expedition together we are bonded even more profoundly as brothers-and-sisters-in-arms for passionate and inspiring science education that integrates art, technology, and the human spirit.
Whether you were able to tune in while we were in Yellowknife (4-16 Mar 2013), or are tuning in at some later time after the journey is done, we thank you so very much for your attention and for joining us in the spirit of this expedition.  We hope folks will enjoy the story we've documented and the resources we've provided here for many years to come. Here's a link to Post 1 in case you'd like to start at the beginning.
Perhaps we'll find another adventure for sporting our monster-stylin' arctic boots before the current solar maximum is done.  FYI…Duke's "gi-normous" boots (leftmost in the row) are size 16. My glowing boots are a men's size 8. Click the picture to see the flip flops at the right end!
Solar maxima occur only every 11 years, so there aren't very many in a lifetime.
Live into your dreams!
On we go!